Stress Analysis
Stress analysis requires rigour, experience and skill in addition to the advanced numerical tools available today.  While the images here are predominantly from finite element analysis packages, most tasks require significant reliance on experimental measurement and/or traditional calculation methodology, plus compliance with design codes.  Avocet is a licensee for Nastran™, Solidworks™ and Cosmosworks™.
INDEX
Spoked alloy motor cycle wheel 2
Ferro-cement pipeline cracking. 3
Buried Pipeline Inspection Tee. 3
Pontoon, cable drawn ferries operate at a number of road crossings of the River Murray in South Australia. Ramps at each end of the ferries allow vehicles to drive on and off.  As part of an upgrade, ramps with wooden planking were to be replaced with steel fabrications.  A number of requirements were addressed when the ramps were designed for longevity, strength, weight, flexibility and cost.  The work was done with the customer (a transport authority) and Avocet provided stress analysis services.
<![if !vml]>
<![endif]>
The customer (a freight car leasing company) required adaptable centre-dump hopper cars capable of carrying materials with a range of density and stickiness.  This required especially steep slope plates and large dump doors to ensure that difficult material would dump quickly. Novel design features achieved this objective.  Stress analysis was used to check the design and confirm compliance with a number of railway standards.
<![if !vml]>
<![endif]>
Simulation of cornering stresses.
<![if !vml]>
<![endif]>
This analysis was done to help with the restoration, to working order, of historical steam locomotive NM25 for the Pichi Richi Railway.
<![if !vml]>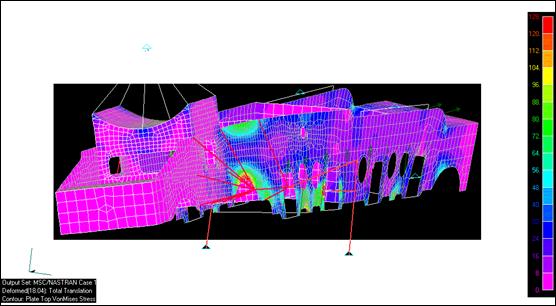 <![endif]>
Deformation due to pressure and creep of PVC pipe joints
<![if !vml]>
<![endif]>
This study included stresses induced from hydrostatic pressure as well as from transient heat conduction.
<![if !vml]>
<![endif]>
This analysis involved modelling long term soil pressure on a buried fitting.
<![if !vml]>
<![endif]>
<![if !vml]>
<![endif]>